Early Bird 2022 Seasonal Rates Are Here!
Lock in the lowest seasonal rates of the year! Seasonal rates* are flying into our most popular sunbelt destinations! Be one of the first to reserve and get the lowest seasonal rate of the year.
Arizona
Participating Resorts:
Araby Acres, Cactus Gardens, Capri, Casita Verde, Countryside, Desert Paradise, Desert Vista, Fiesta Grande, Foothill Village, Foothills West, Golden Sun, Meridian, Mesa Spirit, Mesa Verde, Monte Vista, Paradise RV, Suni Sands, Valley Vista, ViewPoint, Voyager

$100 off a seasonal stay
Valid at: Countryside, Foothills West, Golden Sun, Monte Vista, Southern Comfort, & Valley Vista
Promo Code: EB100AZTX
$200 off a seasonal stay
Valid at: Araby Acres, Casita Verde, Cactus Gardens, Capri, Desert Paradise, Fiesta Grande, Foothill Village, Mesa Verde, Suni Sands, & Voyager
Promo Code: EB200AZTX
$300 off a seasonal stay
Valid at: Mesa Spirit
Promo Code: EB300AZ
$350 off a seasonal stay
Valid at: ViewPoint for elite and standard sites
Promo Code: EB350ViewPoint
$400 off a seasonal stay
Valid at: Paradise RV
Promo Code: EB400AZ
California
Participating Resort:
Palm Springs Oasis

$100 off a seasonal stay
Valid at: Palm Springs Oasis
Promo Code: EB100AZTX







Florida
Participating Resorts:
All Florida RV resorts

$200 off a seasonal stay
Valid at: all Florida RV resorts (except Southern Palms)
Promo Code: EBFL200
$300 off a seasonal stay
Valid at: Southern Palms
Promo Code: EB300FL


South Texas
Participating Resorts:
Alamo Palms, Country Sunshine, Fun N Sun, Lakewood, Leisure World, Paradise Park, Paradise South, Southern Comfort, Sunshine RV, Trails End, Tropic Winds, Victoria Palms

$50 off a seasonal stay
Valid at: Leisure World & Trails End
Promo Code: EB50TX
$100 off a seasonal stay
Valid at: Alamo Palms, Country Sunshine, Fun N Sun, Paradise Park, Southern Comfort, Tropic Winds & Victoria Palms
Promo Code: EB100AZTX
$150 off a seasonal stay
Valid at: Paradise South
Promo Code: EB150AZTX
$200 off a seasonal stay
Valid at: Lakewood & Sunshine RV
Promo Code: EB200AZTX
$200 off a seasonal stay in a vacation cottage rental
Valid at: all South Texas rentals
Promo Code: EB200Rental
*Seasonal reservation of 90 - 182 nights required for discount with reservation including the months of January, February or March of 2022. Early Bird reservation must be booked between February 15 - March 31, 2021. Rates do not include taxes. Book by March 31, 2021. Valid on seasonal stays January 1, 2022 through March 31, 2022. Cannot be combined with any other offer or promotions. Subject to availability. Reservations required. Electric not included for stays of 30 days or longer. Background check required for agreements of 6 months or longer. Must be a current Thousand Trails Camping Pass holder or purchase a Thousand Trails Camping Pass prior to using early bird rates at Thousand Trails locations. Amenities vary by resort. Please contact the property manager for details.

Coming in 2020!
We are excited to announce that Monte Vista RV Resort is expanding! Join the interest list to get updates on the progress of the new 237 RV sites, new check-in office and swimming pool!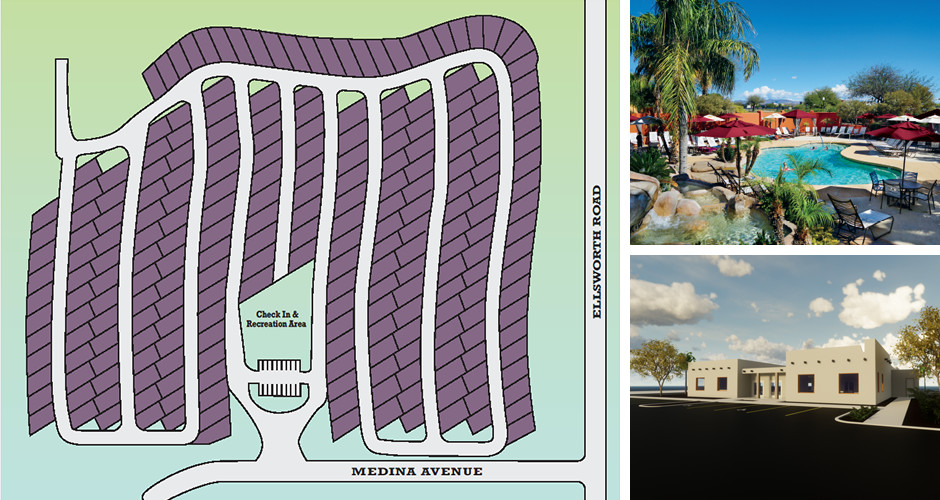 *Pool pictured above left is at Monte Vista MH Village. All Monte Vista MH Village amenities will be available to Monte Vista RV Resort guests.
Camp at Rancho Oso and bring your horse!
Escape from the busy city and discover rugged hillsides and wide open skies. Wide open corrals, covered wagons, cozy teepees, and colorful cabins harken back to a time when the west was not so wild.

Your horse will love the roomy corrals, wash rack, and peaceful surroundings. You will have direct access to miles of trail in the Los Padres National Forest. Horse campers have access to all resort amenities, large arena and round pen.

Our Western Village offers 5 cabins, 10 covered wagons, 5 RV water & electric sites, hot shower restroom, and 30 corrals. Our guests enjoy the view of beautiful sunrises in the Santa Ynez Valley, trail guides, western cabins and more. You will never forget your stay at Rancho Oso!

For Horse Camping reservations, call (805) 683-5687.
Want a longer stay for your horse?
We offer monthly boarding that includes:
• Spacious pasture with other horses, or private paddock/covered pen
• Clean and maintained water troughs
• Quality hay fed twice daily
• Professionally trained staff on duty 24/7
• 24-hour gated security entrance
• Space in a locked tack room
• Access to our huge arena and round pen

To board your horse at Rancho Oso, call (805) 683-5687.
Your satisfaction is very important to us. We appreciate that you have chosen to spend your time with us and want to make sure you and all our guests enjoy their stay. With this in mind, we have outlined some basic RV standards and site standards to ensure that we maintain a standard of quality in our resorts and campgrounds.
Please note that these guidelines and examples are not intended to address all possible situations that may arise at a property. Individual campgrounds/resorts may have specific rules, regulations or guidelines relating to their individual properties. If you have any questions or concerns, please feel free to stop by the management office at your convenience.
Most importantly, we hope you enjoy your stay with us!
RV Standards
The quality of RVs in a resort or campground can contribute to or detract from the overall experience of all the campers. For this reason, we enforce some standards of appearance on RVs, similar to those in place at many other RV resorts and campgrounds.
Our property rules state that "all vehicles must be operable and in good condition." We think it may be helpful to outline a few examples of what is meant by "good condition."
Age Limit
Please note that "good condition" does not mean "new," and we do not typically have an age limit for RVs.
RV Certification
RVs should have RVIA certification. RVIA certification states the rig complies with certain fire codes, which are important for the safety of our guests. Occasionally, exceptions can be granted by Resort Managers and/or Regional Managers on a case-by-case basis for non-RVIA rigs which seem to conform to safety requirements and are of a design and style compatible with the park. A park model RV, also known as a recreational park trailer, should be certified by the manufacturer and built in accordance with the ANSI code.
Appearance Guidelines
Overall, the RV should look and function as it was originally designed. While we can't provide a list including every possible scenario, following are a few examples that should be helpful:
Doors, shrouds, panels, windows and coverings, etc. should be intact and not unsightly.
Exterior should be not unsightly, and should be free of obvious, poorly-repaired damages.
Tarps cannot be used for weatherproofing and awnings should be in good condition.
Air conditioning units should not be added through the walls or windows unless previously approved.
All hoses, wires, etc. should route through ports as originally designed.
Exterior should be free of duct tape, repair tape, excessive caulk, etc.
Isolated minor issues are generally acceptable, provided multiple issues aren't combined to substantially deteriorate the appearance of an RV:
Minor body damage which has been properly repaired but is still visible.
Fading of decals and/or paint.
Minor window cracking, although replacements should be scheduled.
Damage from traveling that has just happened, especially if you have a repair plan.
Site Standards
We all need to be good neighbors to our fellow campers! No one likes to camp next to a messy site, and a messy campsite can be an open invitation to unwanted wildlife.
Following are some guidelines to help everyone be a good neighbor in the campground:
Recreational vs. Residence
For our seasonal or annual campers, we need to remember that your campsite is a recreational site and not a residence.
Customers shall use their RV and site for recreational purposes only and shall not use their RV and site as a permanent residence. Length of stay requirements are based on legal requirements and property established guidelines.
Safety Guidelines
Campsites should be clean and neat, free of fire hazards and clutter.
Customers shall not make any alteration to the electric, water or sewer connections provided by the campground/resort.
Customers should adhere to specific legal requirements when connecting to sewer, water and electric services at the campground/resort.
Customers should be able to move your rig very quickly in case of emergency.
No extra air conditioners, wires, hoses, or cords are allowed except through the OEM port.
Tarps, Tents, Shade Structures, Other Structures
Tents and "easy-up"-type structures are for temporary use only, limited to seven days.
Manager can approve more substantial, semi-permanent shade structures, in accordance with the individual property guidelines.
Only form-fitting bike/car covers are allowed. Carports are prohibited.
Please do not use a tarp to cover any part of your RV or campsite.
Exterior furnishings should be appropriate for outdoor/camping use. Indoor furnishings including but not limited to sofas, chairs, refrigerators, freezers and kitchen tables are not allowed on your campsite.
Fencing is limited to 24" in height and may be utilized only in the area under the rig awning.
The following flags are allowed to be displayed at your site and throughout the campground/resort, American, Canadian, military (including Air Force, Army, Marine Corps, Navy, Coast Guard, POW, MIA) and veterans, sports teams and decorative flags such as holiday, seasonal or garden.
Pets
Customers may have common household pets such as dogs and cats. No other animals, livestock, poultry, reptiles, insects or exotic pets are permitted.
No dangerous, aggressive or poisonous pets of any kind are permitted.
Management reserves the right to reject any pet.
All pets must be registered with the office and vaccination records must be available upon request.
All pets must wear a collar identifying the owner and phone number and all pets must be on a leash at all times.
No pet shall be left tied or otherwise unattended at any time.
Pet owners must clean up after their pets.
Pets are not permitted in the public buildings or amenity areas, including but not limited to the bathrooms, clubhouse, swimming pool and beach areas.
Pets should not be an annoyance (barking continually), or a danger to the other occupants or visitors of the campground.
The campground shall have no liability to family members or guests for any damage or injury to persons or property caused by any pet.
Noxious Activities
No illegal, noxious or offensive activities shall be conducted at any site, including those that are or could become an unreasonable annoyance or nuisance to neighboring sites.
We will not tolerate abusive or disruptive behavior, whether directed at management, staff or other persons.
Smoking is not permitted in any of our buildings, including restrooms, pool areas and rental units. Smoking material must be extinguished in an appropriate fire container.
The open consumption of alcoholic beverages is discouraged in the family areas of the campground/resort. Where permitted, alcoholic beverages must be kept in a concealed container. Under no circumstances will minors, as determined by state and local law, be served or allowed to consume alcoholic beverages at the campground/resort.
Disorderly Persons
The following are grounds for reservation termination and removal from the property: loud noise, whether mechanical, musical or vocal, use of foul or indecent language, causing damage to property of the campground or another person, drunken disorderly conduct, failing to follow rules, failing to follow directions of the property staff, threatening or abusive behavior, or any other conduct that is not the type of behavior that is expected at a family campground/resort.
Damage
Customers are responsible for all damage or destruction of property, and any injury to persons, caused by the guest or his or her family, visitor or pets. We reserve the right to charge guests accordingly for any damage they cause to the grounds and/or campground/resort facilities, including but not limited to broken waterlines, damaged/missing sewer connections, cable lines, landscaping, and excessive debris (bottle caps, zip ties, cigarette butts, etc.)